When it comes to your HVAC, there are ways that help save money and some aren't just part of the HVAC either. Here are a few things that will help cut your bottom line.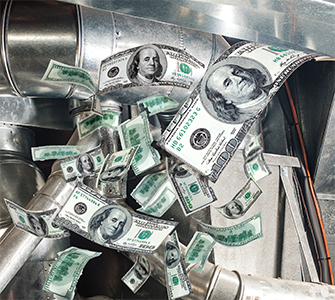 High Amp Fans
They are just fans, right? More than just fans, a 7-amp fan that is not only mobile but energy efficient. It cools large areas, making it perfect for saving on your power bill while still making a hot building more comfortable. The breeze reaches up to an amazing 120 feet away – making it powerful yet money-saving at the same time.
Digital Actuators
A motorized, modulating 4-in1 digital actuator that pairs with a AB-QM pressure control valve to link hydronic systems and building management systems. It incorporates a bus communication device, flow indicator, and data logger for real-time control and clear communication. Its remote control capabilities minimize maintenance and simplify data collection. The valve assembly works with fan coil units, chilled ceilings, air handling units, VAV boxes, induction units, and baseboards.
High Power Air Movers
AC belt-driven fans use much more energy than the High Power Air Mover electronic technology and in fact, is almost 23% more efficient when combined with the brushless DC motor with speed control. It comes with a variety of options – from axial and single to centrifugal and three-phase models and can be used in a variety of situations such as air extraction, ventilation, and air handling units. It moves air at around an efficiency of 40%. The other plus with the High Power Air Mover is that it comes with intelligent controls which means the user can improve performance and monitor conditions. Interface options include PWM, ModBus, sensor speed control, or voltage control.
Climate Controllers
When you need climate control on the go, a portable heat pump that has heating and cooling in one easy to use system, is the way to go. It has a cooling capacity of over 10,000 BTUs per hour and its heating capacity is almost 10,000 BTUs per hour as well. The minimum plenum temperature is 24 degrees Fahrenheit and best of all, it plugs into any standard 115 volt, 15 amp outlet so it is useful and conveneient pretty much no matter where you need it.
Read More: Keep on Top of Emerging Trends
There are so many things that can help your HVAC and while these are just a few of them, it is important to not forget regular preventative maintenance and Maintenance Care can help.