Spring has sprung and it's time to get your facility ready! While everyone is spring cleaning, developing a Spring Facility Maintenance Management Plan requires a bit more thought for optimal execution. But there's no need to worry! With these ten tips and your trusty CMMS, your facility maintenance will be underway so you can enjoy your spring operations without pause.
1. Safety First
Seasonal maintenance at your facility only happens once every couple of months, and safety procedures can get lost in the shuffle when it comes to getting everything ready for spring. It will be well worth your time to make sure that all maintenance staff are aware of your safety plan. Be sure to assess tasks for possible safety issues and adjust your plan accordingly.
2. Have a plan and stick to it
Without a plan your spring maintenance can seem like a daunting task. Using a CMMS like Maintenance Care with features that allow you to reorganize and prioritize tasks, you can make sure that your team (whether one or fifty) is on track and thorough in their spring maintenance tasks.
3. Know the code
What safety, building, or health codes is your industry accountable to? Whether you're managing a health care, hospitality or manufacturing facility you have standards set for you to uphold. Take stock of what the requirements are and make your team aware of the standards to avoid any hiccups along the way.
4. Reference your Equipment Inventory
Depending on your industry you have varying assets that need attention. Use your CMMS preventative maintenance features to make a list of your assets that require servicing and special maintenance. Set yourself up for success by taking stock of assets for maintenance.
5. Consider your staff
Many hands make light work! Putting together a team for your spring facility maintenance will promote safety, build team dynamics and get the job done so you can continue with regular operations.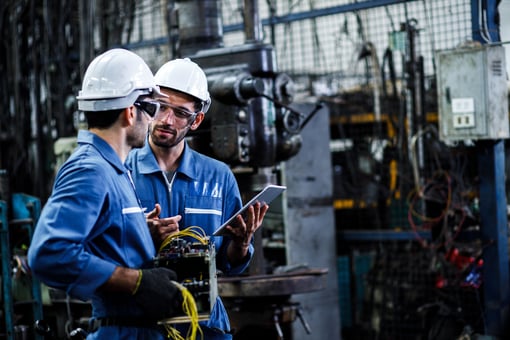 6. Be sure everything is listed in your CMMS
When it comes to spring cleaning at your facility a CMMS like Maintenance Care is your best tool. Be sure to use your CMMS to its full potential by verifying all your preventative maintenance tasks, work orders, and tasks are inputted so that you don't lose precious time and money on missed tasks.
7. Use your mobile app to keep on track
You're busy, especially around this time of year. By using your Maintenance Care App, you can check-up on progress, sort your task lists and add transactions to your assets from anywhere with your mobile device so there's no need to pull out a laptop or head back to the office to check-up.

8. Don't forget your Regular Maintenance
While spring cleaning is a time to get all your quarterly preventative maintenance done, don't forget about your regular maintenance in the meantime. Your CMMS will help you to juggle all these tasks so you can rest easy knowing that you haven't missed a thing.
9. Let your Preventative Maintenance plan shine
Your preventative maintenance plan was made for a time like this! Spring cleaning is when you can really put your preventative maintenance CMMS features to the test. As you go through your facility's plan remember to find opportunities to add tasks to your current maintenance plan as well as for corrective maintenance to keep downtime of your assets to a minimum.
10. Take opportunities for Corrective Maintenance
Corrective Maintenance can save your facility time, grief and money if planned well. Through your preventative maintenance plan, you may find corrective maintenance opportunities which increase the life of your assets. Of course, there can be unexpected corrective maintenance, but with a regular and preventative maintenance plan through your CMMS, you can reduce unplanned repairs to streamline your facility operations.