Solar panels are not only a good investment, they are also better for the environment. However, like anything that needs to be installed after a large investment, it is essential to find out if your roof is a good candidate for this type of upgrade.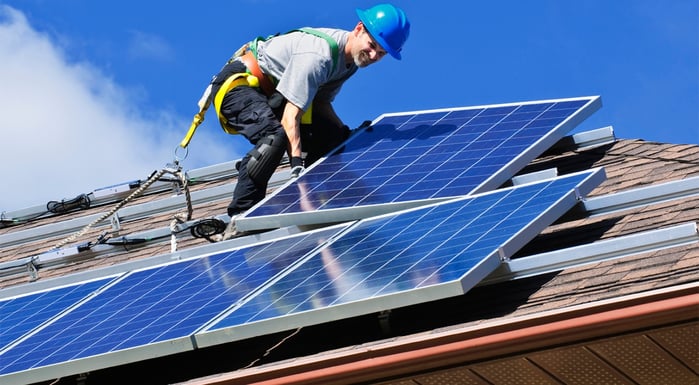 Things To Consider
Load Bearing Capacity: One thing to consider is the impact that solar panels will have on your roof. Look for the following and take everything into consideration when making this decision:
"Look at factors such as the load-carrying capacity of the deck and framing, the type of roofing system and slope, the roof's age and condition, building height, and wind and seismic loads."
You will want to make sure that your building's roof can handle a large modification, such as solar panels without actually having to modify your roof just to accommodate them.
Roof Size: Another thing to keep in mind is your roof's size. Solar panels should have plenty of room and away from shade which doesn't help them perform well. Any walls or equipment should have plenty of clearance and should not be installed over or adjacent to equipment where hot exhaust air will impact their efficiency. Panels also need to be kept back from high-wind zones, such as the corners and roof perimeter. While it may seem that less space is the best route to go, it's not the best way to get the most out of this investment.
Winter Conditions: Ice and snow is another consideration to keep in mind. If your roof has a slope that is moderate then when ice and snow builds up, the solar panels can become dislodged. This is why preventative maintenance is imperative to ensure that ice and snow is kept to a minimum on the roof. This is a good idea for your roof's longevity anyway but when using solar panels, it is even more important.
Read More: Reduce Costs With LED Lighting
A good installer and reputable company will be able to tell you what is best for your company or building but knowing the facts before you inquire is indispensable. And keep in mind that all of your preventative maintenance needs are easier with CMMS from Maintenance Care.