"In 2015, there were 1,345,500 fires reported in the United States. These fires caused 3,280 civilian deaths, 15,700 civilian injuries, and $14.3 billion in property damage. 501,500 were structure fires, causing 2,685 civilian deaths, 13,000 civilian injuries, and $10.3 billion in property damage."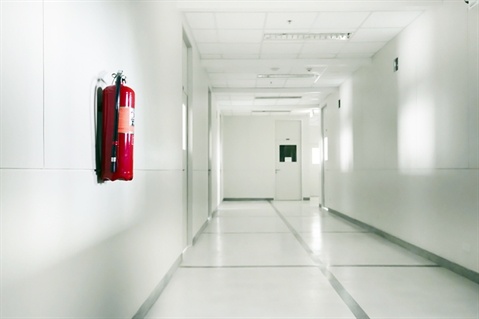 Fires can happen for a number of reasons and while prevention is key, so are reactionary safety measures when a fire happens in your facility.
Exit Routes
One of the most crucial things to have in place are sufficient exit routes. A clear, lit path to an exit is critical so that people can get out safely. These routes must be easy to read and understand, especially when time is of the essence and lives are at stake.
Fire Drills
Many people might say that fire drills are just a disruption to their daily work routine, but they are important. Not only will employees have a clear understanding of what to do in case of a fire, they will have gotten to go through it themselves, which will make that information more stable in their memory. Once they have completed the drill a few times, they have a better chance of responding in the right way when there is an actual emergency.
Defend in Place
For those businesses where occupants are not mobile such as in a hospital or nursing home, a defend in place system is crucial. What this does is allows employees to protect patients from the fire when they are not mobile or cannot be moved. This is done with three types of fire protection methods:
Progressive. This way of fire protection is where the immobile patients are transported out of the situation and moved to a safe area.
Defense. Occupants or patients who are in danger but not immediately are relocated to a place where there are protective doors and can be safe from a fire.
Evacuate. This is the best case scenario where occupants are located near the fire exit and can be evacuated.
Read More: Preventative Maintenance is Important for Your Fire Sprinkler System
Preventative Maintenance and Fire Safety
Fires are scary and damaging but with a plan in place, the damage may be minimized and lives are saved. Every fire safety plan must start with the proper preventative maintenance program that ensures all ducts, radiators, heaters, etc, are clear of dust and debris that could cause a fire. A CMMS program will allow you to schedule this maintenance on a regular basis so you don't have to remember it yourself and risk forgetting these crucial maintenenace procedures.