Emergency signs are there to protect people in a time of crisis. Whether it's a fire or other threat, having emergency lights provide a safe exit for everyone at your facility. While these lights are of the utmost importance, they can often be overlooked during regular maintenance tasks.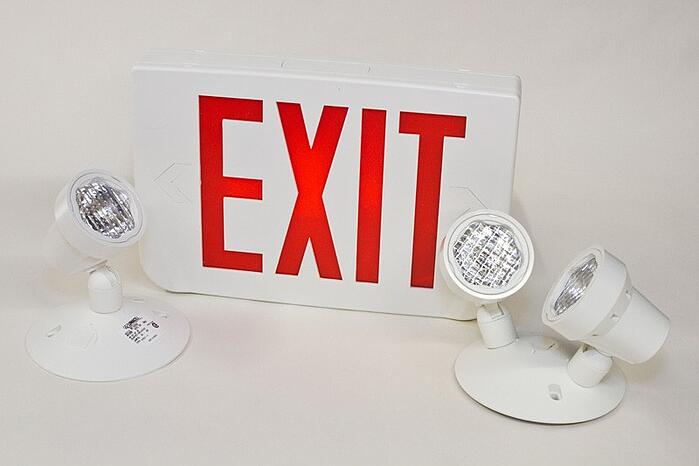 Monthly maintenance is key to keeping your signs in working order. If you do not have staff that is trained to check them, a licensed professional can get the job done. However, most facilities have someone that is more than capable of this task.
Testing
It's as easy as testing the battery backup (make sure all batteries are in good working order), checking all bulbs to ensure that they are lit and have the right amount of illumination (make sure all lamps are lit and that the AC ready light is on), and checking for damage from normal wear and tear and signs of damage from the elements. It is also important to ensure that every sign is in the proper location so that they can be seen if needed during an emergency.
For a full compliance according to NFPA (National Fire Protection Association) codes, a yearly burn test should be performed. This is a test where the emergency lights need to remain lit for 90 minutes on your backup power source. This ensures that during an emergency situation that the lights can perform properly with backup power. Any defective parts should be replaced or a licensed technician should be called out to fix the light if your facility is not equipped to do so.
Compliance
These are routine tests and inspections that most anyone can perform and should be easy to schedule on a monthly and yearly basis. It's easily overlooked because the signs are simply always there when you need them but it is important to make sure they are in optimum working order for when you need them most.
Also Read: Fire Protection with CMMS
So that these emergency lights are not overlooked, you can use preventative maintenance software to schedule these tasks in advance. That way, no one forgets to do the monthly or the yearly tests and all of your emergency lights are in perfect working order.