When you work in maintenance, you just never know what can go wrong. That's why you have to maintain a schedule that's flexible. You need a schedule that will allow you to move things around and place the priority items on the top of your list. However, it can be difficult to maintain such a flexible schedule when the majority of your workforce it out in the field for most of the day. Cell phones and walkie-talkies are useful for notifying your workers about a change in their workday, however, what happens when you best maintenance maintenance person happens to be in an area where there's no service?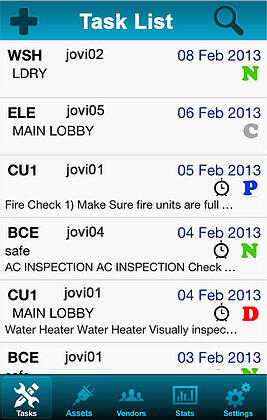 One of the best things about our maintenance scheduling software is the fact that it features an app that will help keep your maintenance team on top of any scheduling changes you have to make during the course of the day.
According to The Daily Mail, apps have overtaken the Internet as far as popularity goes. The number of people who own smartphones and tablets is increasing daily, and as that number increases, so do the number of app downloads on both Apple and Android devices. While it's true that most apps are for entertainment purposes or informational purposes, we believe that an app can have an even greater purpose in the workplace.
The Internet is a valuable tool for any business because it simplifies and streamlines the work that needs to be done on a daily basis. However, an app, when used for the same purpose, can increase the efficiency of your team even further. Imagine being able to send push notifications to your team that they'll have access to right away. They'll also be able to keep track of the work they do, and the time it takes to do it with only a few entries into their smartphone or tablet. You'll have instant data, and they'll have an easy way to stay on task.
With the Maintenance Care app, you'll be able to make your team more efficient, and keep your tenants or residents happy. It's really as easy as knowing that there's an app for that too.
Want to know more? Contact us today!