Many facility managers still use spreadsheets. Sure, they allow you to make graphs and save data and they come equipped on your computer. However, CMMS (Computerized Maintenance Management Software) works much better than traditional spreadsheets.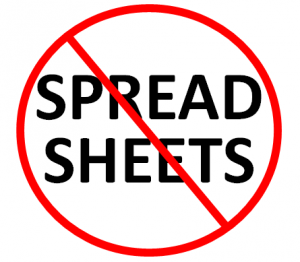 Here are a few reasons why:
Real Time Reporting
Spreadsheets work only as fast as the person who takes the information and does something with it. With CMMS, the service requests can be entered in real time and are immediately sent to the staff member who is performing the work task. Instead of having to wait on the employee getting the work order, they get a notification through the app and this saves time and eliminates most of the communication issues that can come up.
Document Access and Retrieval
Another added benefit is the ability to upload important documents. Keeping these documents in a filing cabinet or desk drawer does not allow it to be right at your fingertips when you need it and documents can be misplaced easily. CMMS allows you to upload these important files and then access them immediately. This includes things like warranties, purchase information, floor plans, paperwork on hazardous materials, lease agreements, and vendor information.
Reminders and Alerts
When time is of the essence, automated reminders and alerts makes your job easier. CMMS allows you the ability to send out notifications when service requests are made, inventory items have reached a critical threshold, preventive maintenance needs to be performed, inspections are due, warranties are approaching expiration, or a breakdown has occurred. You also have the ability to be reactive to situations where work is not done in a timely manner such as a work task that should have been performed but has not yet. This reduces downtime and saves headache in learning later that something wasn't fixed or done.
Preventative Maintenance
Preventative maintenance is easily set up in the program so that it is automatically sent out to your staff when it needs to be done. No more trying to remember or setting up a spreadsheet that simply lists dates. Instead, the employee gets the notification on the designated date when the work is to be done.
Read More: Don't be Afraid to Take the Plunge
These are just a few ways that CMMS works better than a spreadsheet and saves your facility time and money.