If you've seen the movie Manchester by the Sea, then you may remember seeing Casey Affleck in the building manager's office.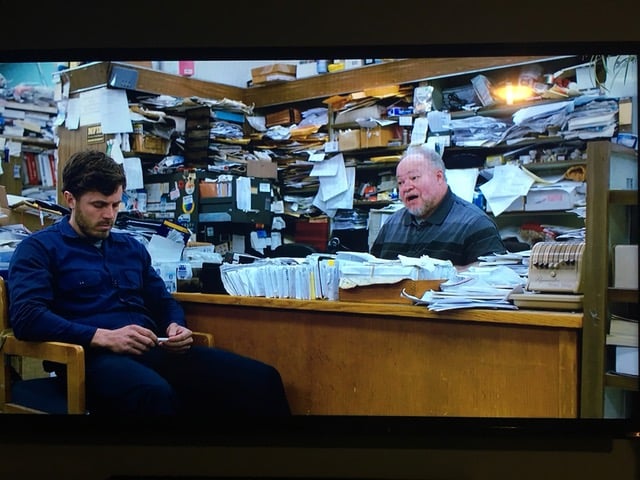 It's a messy place that is surrounded by a sea (see what we did there?) of paperwork. While in this movie Casey Affleck, who won the Academy Award for Best Actor for his role, is not the maintenance department manager, his boss could certainly benefit from having CMMS (Computerized Maintenance Management Software)
In fact, Casey's character Lee gets yelled at all day or treated rudely by residents of the building he helps maintain and even ends up in that building managers office over something that was said about him by a resident. While we hope that isn't the case where you work, one thing that certainly makes it easier to keep up with work tasks, preventative maintenance, and even your equipment is a good facility management software.
Move From Clutter to Clean
CMMS allows you to move from an office full of paperwork to a maintenance department that is up to speed with technology that makes your life easier. Instead of having notes jotted down everywhere or Post-Its taped to a calendar, everything is right at your fingertips. You can set up preventative maintenance tasks far in advance so that they are always done when it needs to be done and you can send employees on tasks automatically through the mobile app, and everything is done from wherever you have a browser and an Internet connection. In fact, you do not even have to be at your office to get things done because everything is mobile.
Get Out of the Office
CMMS makes your life easier as the department manager. Instead of looking for lost paperwork or having miscommunications, you never have to worry about that again. Plus, wouldn't it be nice to be able to send out a work order that you forgot and do it from home? No more running back to the office because you forgot something.
Read More: Keeping Your Own Department Clean
Manchester By the Sea showcases just a small part of what the maintenance world encompasses, but it does show a little of what some offices actually look like – you know who you are. Why not make your office look better and run easier by streamlining everything with modern technology?