Our computerized maintenance management system (CMMS) recently won two major awards from one of the leading B2B software review platforms, FinancesOnline.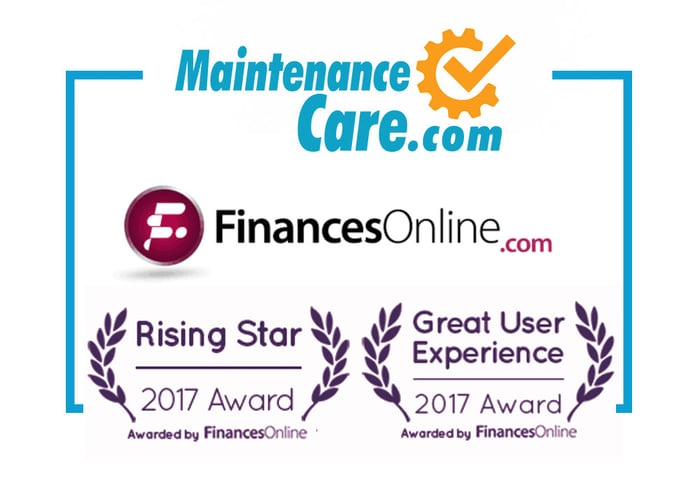 We're Getting Recognized
Maintenance Care was recognized with the 2017 Great User Experience and Rising Star Awards for its intuitive way of centralizing work orders, asset management and preventive maintenance on one platform. Our software allows for more efficient work request-to-service process utilizing automated CMMS scheduling and is highly adaptive to different use cases.
Easy To Use
The Great User Experience Award for the platform's CMMS software category exemplifies how easy it is to implement a work order management process with Maintenance Care. Requests are directed to the right person and a service schedule can be effected immediately. Likewise, the service team can easily associate equipment items to a job order using the platform without the need for cumbersome data entries. A history of work orders and outputs are also retrievable from the system, which enables a maintenance manager to evaluate the overall health of the asset.
Adds Efficiency
Similarly, the Rising Star Award validates our solution as an important tool to keep your assets at functional levels and avoid costly repairs. One of the key uses of Maintenance Care is its automated preventive service schedule. You can set up recurring asset checkups to ensure a facility or equipment consistently complies with industry standards. You can also reassess the service routine and task scheduling at intervals to further add efficiency to the entire process.
Read More: A Few Words From the President of Maintenance Care
On another note, we're privileged to be included in FinancesOnline's top list of project management software. Our solution has merited the attention of project leaders as well. The article noted our key features such as asset lifecycle, easy work orders and preventive schedule as helpful to project teams, especially in the I.T. asset management field.