No matter what kind of facility you run, there are restrooms to take care of. However, if you run any kind of hospitality business, health care center, or public area, then you know how it is even more important to have restrooms that are fresh, convenient to use, and easy to maintain.
Here are a few ideas that will help you get started in making sure your facility is prepared for bathrooms that make things easier.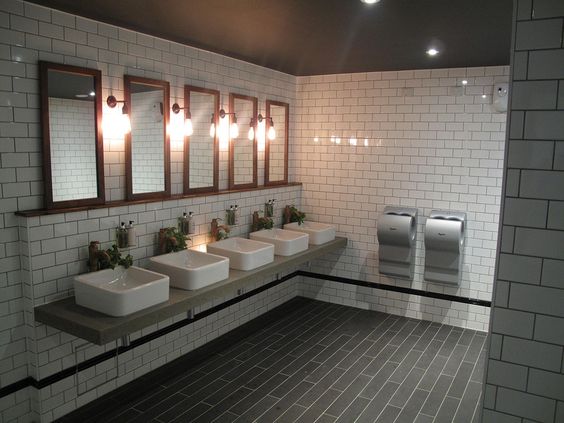 Embrace Technology
Bathrooms may be a basic need but the technology you choose doesn't have to be. For instance, touchless fixtures are just one way to ensure that your guests and employees remain more hygienic when using the restrooms at your business. Each of these have different life expectancies which is easy to research, but the preventative maintenance is fairly easy with usually just a change of batteries when needed after the initial installation. Another idea is to invest in low-flow toilets that have a lower per gallon flush rate and save money throughout the year. These savings add up substantially – especially if you have a lot of customers and quite a few toilets to maintain.
Choose Aesthetics Wisely
You may not have the final word when it comes to the decorating portion of the bathrooms, but if you do, then it is important to choose materials and looks that work with you instead of against you. For instance, dividers in bathrooms are easily scratched up and harder to clean than a solid wall or tile. Choosing a look that is classic will also ensure that you don't invest in something that is trendy one year, only to be outdated in no time at all. Classic fixtures and looks are always in style and will save you money on having to redecorate once a certain look has gone out of style, which can be pretty fast in some cases.
Read More: Take the Plunge Into CMMS Software
Use CMMS to Your Advantage
When making sure that bathrooms are kept up to date and well-maintained, CMMS (Computerized Maintenance Management Software) is the perfect tool to make it happen. It allows you to plan ahead, assign work tasks, and even set up preventative maintenance, which is crucial to any facility.