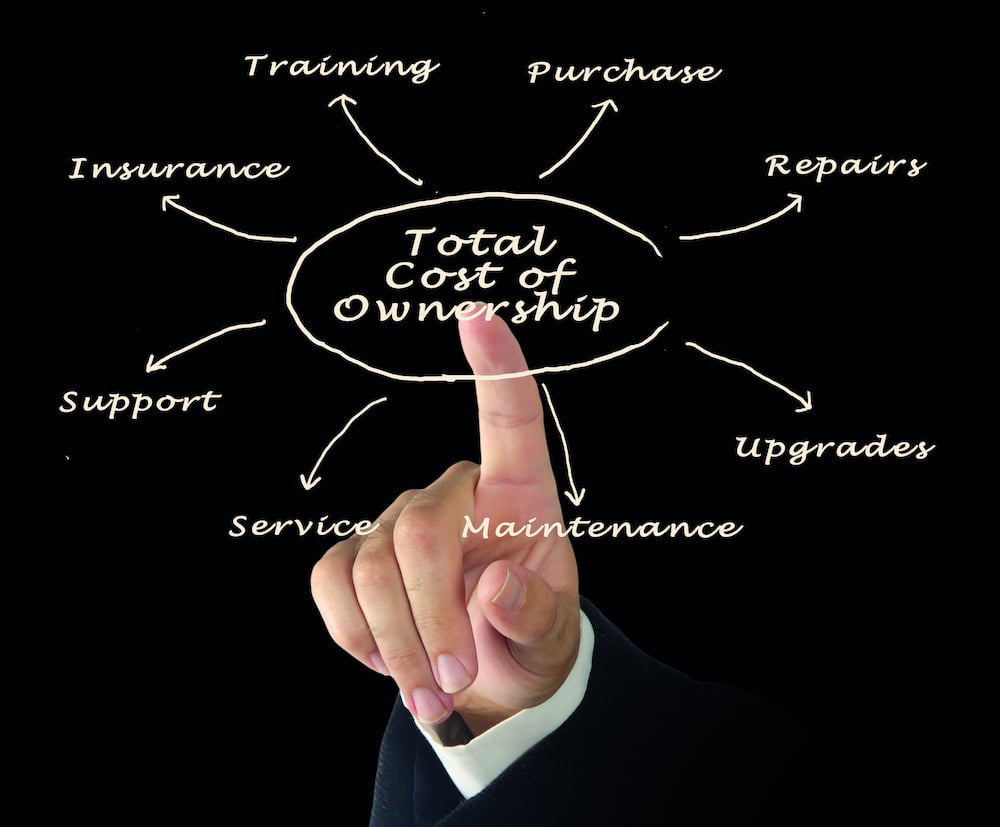 In short, Total Cost of Ownership (TCO) is how much an asset costs from the time of purchase, throughout the course of its lifetime. This includes its original purchase price and all expenses incurred from start to finish including:
Acquisition Cost – An asset's overall purchase price

Operation Costs – Training, operating, utility

Maintenance Costs – Repairs and upkeep (both parts and

labor

)

Downtime Costs – Financial loses as a result of asset downtime

Resale Value – Current value of an asset retains after a certain amount of time and

usage
By adding all your costs and subtracting the resale value, you will be able to determine an asset's Total Cost of Ownership.
Accurate Total Cost of Ownership With CMMS Maintenance
TCO and Your Maintenance Department
As the manager of a busy maintenance department, TCO may be something you're more than a little familiar with. It's your responsibility to seek continued ROI on facility assets and keep costs down while overseeing asset longevity. You know cheaper isn't always better and you understand that a lot more can go into the cost of an asset than just the purchase price and operating costs.
You have a lot to think about. So why not make it easier by using Computerized Maintenance Management Software (CMMS) to help you?
Total Cost of Ownership and CMMS
CMMS software will not only increase department efficiency with live maintenance lists, instant work orders, mobile capability and more, a fully integrated and comprehensive CMMS program will include the asset tracking features you need to accurately calculate TCO for all your facility's assets:
Complete Asset List – Keep detailed records of your assets including make, model, serial number and more all in one convenient location.

Asset Repair and Cost Tracking – Record and access repair and maintenance history to track and profile the performance of any piece of equipment.

Capital Planning – The ability to forecast and budget for an asset's replacement – leading to reduced downtime unplanned repair expenses.
With the ability to record everything from when the equipment was purchased to what provider it was purchased from, you can better predict the life expectancy of your assets (imagine knowing you will need to replace a hot water heater or AC unit months or even years ahead of time!). Knowing the details will assist you in capital planning, simplify your job, and prove your budget requests.
Maintenance Care Facility Management Software
Maintenance Care understands the obstacles a busy maintenance facility faces every day – including financial barriers. That's why we've designed our software to include all the features and tools you need to make running your maintenance department that much easier. Take the guesswork out of calculating your Total Cost of Ownership, get in touch with us today for a free demo, or to get started on any one of our three CMMS software editions.
Would you like to know more about the great features included in Maintenance Care CMMS software? Visit our features page to explore the wide range of capabilities we have to offer.