When running a maintenance department, you have enough to keep yourself busy without having to worry about germs but keeping your facility and property healthy during flu season is important as well as your day-to-day tasks.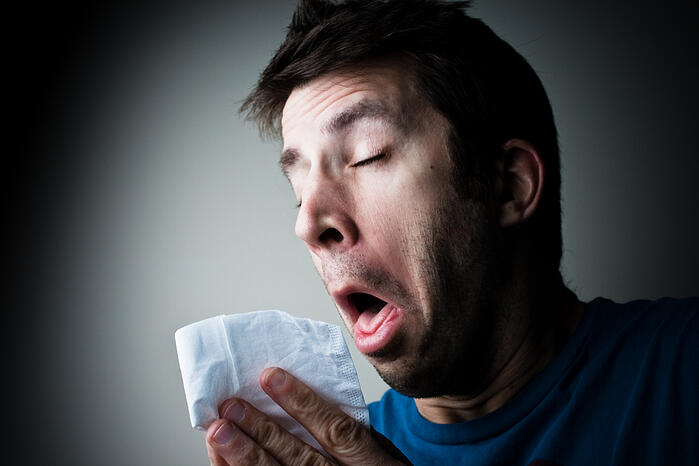 There are a few key elements in making sure that you have the proper tools in order to keep everyone as healthy as possible and maintenance tracking software can help.
Education
You might be surprised at how many people don't realize the fundamentals in keeping free from germs. You can start by downloading materials from the CDC and educating your employees. Just like at a restaurant, it is important for your employees to wash their hands after using the restroom to help keep from spreading germs to others and sometimes it is as simple as placing a sign in the employee bathroom to get people to take notice.
Supplies
Make sure that your public and employee bathrooms have the necessities available to help with hygiene and germ control. One way to start is by having touch-free systems for your faucets, towels, and toilets. This may not always be feasible depending on your budget but it is a good way to ensure that less people are exposed to germs that accumulate on toilet fixtures in bathrooms. Another supply to have on hand if possible is hand sanitizer. There are inexpensive dispensers that allow you to give your employees a place to sanitize their hands and if that isn't in the budget at all, some places simply purchase a large bottle with a pump dispenser to have in a central location. Sanitizer is pretty inexpensive and can really make the difference in your property's well-being.
After an Outbreak
If your property has experienced a flu or cold outbreak, make sure that the common areas and restrooms are thoroughly cleaned multiple times each day. One way to help ensure that your materials are not cross-contaminated is to use cleansing wipes instead of a rag but if you do choose to use cleaning rags, find those that have a non-woven material which allows bleach and sanitizing products to stay active for a longer period. Mop buckets are another no-no when it comes to cleaning the floors unless they are immediately cleaned and sanitized after each use.
Read More: Healthy Workplace
You can't always prevent a cold or flu outbreak at your facility but at least you will have the tools you need to help deter the outbreak before it happens. With Maintenance Tracking Software, you can schedule and track cleanings to make certain that everything stays sanitized.