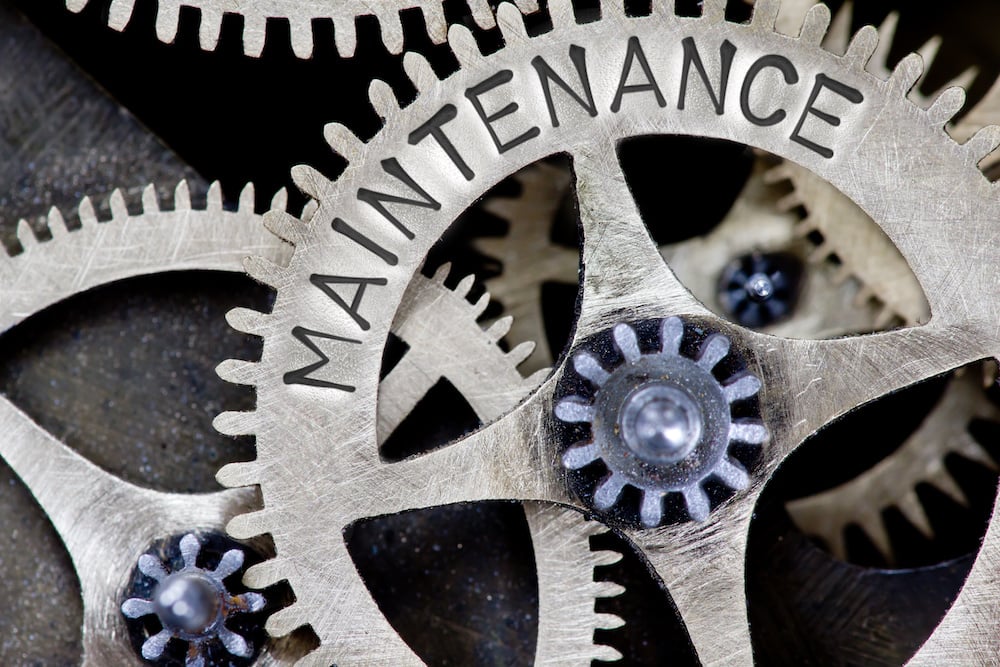 A maintenance plan includes a lot more than knowing what needs to be fixed and when. Instead a THOROUGH maintenance plan should reduce costs and downtime as well as boost long term ROI and productivity. There are four different maintenance actions or "modes" that, when working together simultaneously, create a larger strategy that's guaranteed to improve asset and facility efficiency. Here's what you need to know about these four modes and how they can help your maintenance department succeed.
Four Maintenance Modes Every Maintenance Department Needs To Succeed

Predictive Maintenance

Predictive maintenance uses technology to help "predict" the lifecycle of a given asset. Similar to visiting a doctor for a check-up, predictive maintenance uses a variety of tools and applications (such as infrared and ultrasound technology) to routinely check on the "health" of facility machinery. Ever since NASA first adopted predictive maintenance to test their space shuttles for faults, predictive maintenance has gained traction across industries as a means of averting downtime and system defects. Experts have reported predictive maintenance can reduce maintenance costs by 30%, downtime by nearly 50% and breakdowns by as much as 75%

Preventative maintenance works to reduce short-term and long-term costs by employing ongoing "ahead of time" maintenance. Much like winterizing your car before the cold weather hits, these scheduled events take a proactive, timely approach to maintaining facility assets (i.e. lubrication of machinery or changing out air filters of an HVAC unit). Preventative maintenance can be scheduled regularly (daily, weekly, monthly etc.) and should be at the forefront of any facility. Like predictive maintenance, there is a far greater chance of catching and correcting issues before they become major problems when using this strategy.
Proactive Maintenance
Proactive Maintenance differs from all other forms of maintenance because it addresses more general elements of a maintenance program, rather than examining the machine itself. For instance, whereas preventative maintenance relies on scheduling to tackle maintenance tasks, proactive maintenance instead relies on the analysis of conditions under which an asset might fail. Knowing that an asset needs to be properly lubricated and stored at a favorable temperature (and ensuring this is always the case) is an example of proactive maintenance. In short, this approach looks to control the problems that can lead to machine wear and tear as opposed to the decline in quality itself.
Reactive maintenance is the typical break-fix approach historically employed by most maintenance departments - and generally means repairs aren't addressed until an asset breaks or fails entirely. While this method has a tendency to keep costs low at the start, it's not a long-term solution. Reactive maintenance can lead to bigger issues with larger costs, especially if the life of an expensive asset could have been extended with the other modes of maintenance mentioned above.
When it comes to reducing downtime and increase the lifecycle of your assets, employing all maintenance modes is imperative. While how much you utilize each action may vary based on your unique needs, all four are important to improving facility efficiency and ROI.
Make keeping track of maintenance easy with Maintenance Care's CMMS software. Not only does our CMMS software have everything you need to stay on top of predictive, preventative, proactive and reactive maintenance in one convenient location, you can create the ultimate maintenance plan with access to other helpful features including mobile capabilities, document storage, 3D virtual spaces and more!
If you'd like to learn more about any of Maintenance Care's maintenance features and help we can help your maintenance department succeed, book a demo with us! We'd love to tell you more.